Download Your Free Copy of Next Generation Giving Is Here, eBook!
Download your copy today!
Unleash Next Generation Giving!
This ebook is going to tackle what is potentially the most serious financial issue facing a church's future generosity health. How are we growing the next generation of givers? We will first seek to understand this generation better.
This e-book will help you...
Understand that people are donating more funds to charitable causes than ever!
Every generation is living generously in both similar and unique ways.
There has never been a better time to lead a generosity ministry than today!
* By signing up, you agree to receive information regarding LifeWay Generosity and other LifeWay resources.
1. Share this eBook with your team. Just send them this link: https://lifewaygenerosity.com/nextgenerationgiving
2. If you are interested in learning more about how you can subscribe and access the features mentioned in the eBook go to lifewaygenerosity.com.
3. Check out other tools and resources that will help you understand giving by the generation and how to develop the culture of generosity in your church.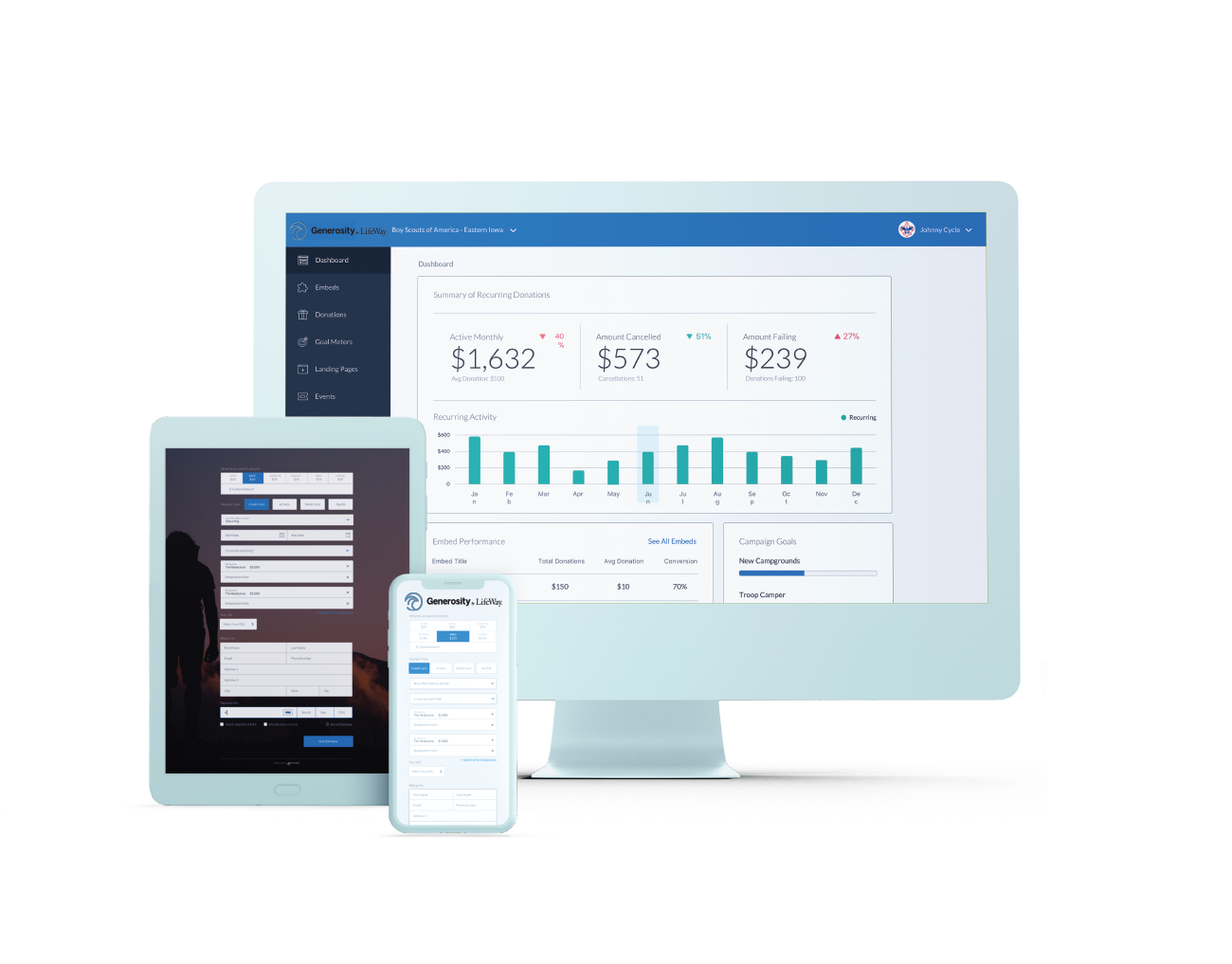 UNLEASH NEXT GENERATIONAL GIVING.
NO SETUP. NO SUBSCRIPTION. NO CONTRACTS.
Generosity by LifeWay offers the most comprehensive solution at the lowest price. Here's exactly what your paying:
- 2.69% + $.30 flat transaction fee for all major credit/debit cards
- $0.30 per transaction for eCheck
- $20.00 monthly fee to the payment processor for an account and breach protection
Unleash the following channels of digital giving available to today's giver:
Online, Text, App, Noncash, Crowdfunding, and Events!

Want to learn more about other resources by Generosity by LifeWay?
We believe that growing discipleship is the key to leading a generous church. We have leveraged years of expertise in one convenient place to provide you with all the tools, support, and resources you will need to unleash giving through your own generosity culture.